As I write this its one month till the 2019 Tour de Cure. This will be my 10th Signature Tour in a row and this page is dedicated to recording my journey over the last 10 years to this point. This year's Tour starts on the 3rd of May 2019. The route is set to be an epic ride, 9 days 1400 km from Sydney to Geelong in Victoria. We are going to go over the Snowy Mountains this year so there is 14000m of climbing involved.
This year's Tour de Cure will be an epic journey and I am sure that there were days in there that I will feel like giving up. I know that going over the Snowy Mountains there will be wind, there could be rain and it will be bloody cold  …………. but even though we will go through all this it's not as hard as having cancer.
I wasn't ever a rider, I only took it up because I made a stupid bet on New Years Eve 2009 when I said that I would ride in Tour de Cure 2010. I didn't live to regret that drunken pledge but I didn't quite know what I was letting myself in for and the wonderful journey that I would undertake over the next few years.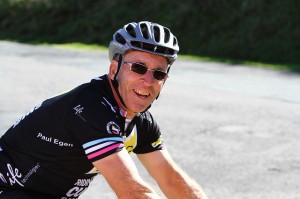 It was the wee hours of the 1st of January 2010 that I started to realise the pledge that I would ride 1400km's from Sydney to the Sunshine Coast and raise $20,000 for the cause started to sink in. Not only did I not own a bike but I hadn't ridden more than 20km in my life!
But I was determined to make a difference. My family had been touched with Cancer. My mother had died from Cancer when she was 49. My father and father in law were both survivors of prostate cancer (My Father in law has only recently died from Cancer) and my Mother in Law had had over 50 operations on skin cancers around her body (and also recently died from Cancer.)
The thing that made me think about finding a cure was our bookkeeper and close friend Kathy Parton had been diagnosed with Breast Cancer. This bought it even closer to me because she was part of our business family. Since that first year she contracted advanced lung cancer and she passed away from Cancer. I rode the 2010 Tour for her, my mum and all those people who were living, fighting and dying from Cancer.
This is Kathy below who met me at the end of that first Tour.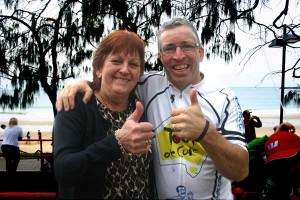 My first Tour was in May of 2010. I got my first bike, a Cannondale Six on the 18th of February that year and rode my first Tour de Cure from Sydney to the Sunshine Coast in May the same year. I also reached my fundraising goal by raising $25000 in donations.
The whole journey of the Tour De Cure is a wonderful one. The friendships that I have formed when training, leading up to the tour and in the actual tour are ones that remain today. The feeling of completing such an awesome challenge is one of pride and accomplishment. A feeling of doing something good for others.
2011 saw me again saddling up for the Tour. This time the challenge was to ride from Sydney to Melbourne (1400km). This ride would challenge most people, it wasn't down the freeway it was through the Snowy Mountains! Some of the days were long (230km) some were steep (the Clyde Range) but we knew that whatever we were going through was nothing to what people with cancer go through so that made the challenge more rewarding when we rode into Melbourne.
The 2012 Tour de Cure was a greater new challenge. The route was an even bigger challenge. The task was an epic route from Brisbane to Mission Beach, a journey of over 1650km in 11 days with some huge days in the middle – 256km (Day 4 – from Harvey Bay to Seventeen Seventy) and 228km (Day 5 – from Seventeen Seventy to Biloela) and then 187km from Biloela to Yeppoon. That's 671 km in three days, a feat that will challenge even the fittest amongst us.
2013 was an epic ride from Adelaide to Canberra through some beautiful country. Along the coast from Adelaide, we experienced some beautiful vista's of the ocean and then we turned inland. There were long, long days of flat ground before we entered the Australian high country travelling from Albury to Jindabyne and onto Canberra !! I experienced some of the greatest climbing days that I have done and also experienced the coldest that I have ever been !! -6 degrees and I was on a bike !.
The 2014 ride was like no other that I have been on. It was 10 days of punishing riding. I don't think that there is a hill between Sydney and Hobart that we haven't ridden up !!. The days were long and the riding was punishing but I am glad that I was able to participate and raise money for such a great cause.
2015 had all the promise of being an awesome ride. The route from Adelaide to Melbourne was to include The Great Ocean Road which we were all looking forward to but ……….. we had to get there first. The first few days of this Tour were the hardest days that I have ever spent on a bike. The first day, in particular, was BRUTAL. Cold, headwind, driving rain, we had it all. I still remember the first day of this tour as the worst ever day I have ridden on a bike! The headwind was to stay with us for the whole journey but it didn't make any difference when we reached the ocean road. This part of the country is beautiful and the sun came out just at the right time for us to enjoy it. I have to say that I was worn out but satisfied after this Tour.
2016 Brisbane to Sydney
2017 Hotham to Hobart
2018 Mackay to Cape Tribulation to Cairns
I am looking forward to the journey that 2019 will bring. The training, the fundraising and the time will all take its toll but I am ready for the challenge. I look forward to getting fit again, hanging out with some friends who will encourage me to reach my goals and help to raise money to cure cancer.
So for those of you that have supported me in the past, THANK YOU but our journey is not over. For those of you reading this for the first time please, help me to help others and cure cancer. If you don't have anybody that you know that is affected by cancer, you are in the minority. Most people that I know have a family member, close friend or acquaintance that has cancer or has been lost from cancer. One day maybe you will even have cancer.
Thank you for all your support that you have given me in the form of donations and encouragement in the past, it is truly wonderful and deeply appreciated.
Since joining the Tour de Cure I have contributed to raising over 40 million dollars! Personally, I have raised around $150,000 in 10 years.
All this money goes towards all the wonderful projects that we have supported this year
So many people lost to cancer. So many people living, fighting, struggling with Cancer. Some winning and some losing. We need to do something to cure cancer. This is my something.
The early morning training rides, feeling stuffed at the end of the day, sore body, heavy eyes  ………………..its all worth it. The cause is just so worth it.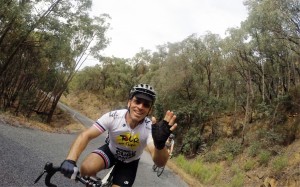 My Goal is
To do something to help win the fight against cancer.
To ride and raise money to help cure cancer.
So how can you help?
You can help in 4 ways.
Click the donate button and help me to raise my goal of $20,000 for cancer research. (Click here to see where the money goes).

Click here to email me and share your story of how your family has been touched by cancer.
Send an email to all your friends and ask them to visit www.mytourdecure.com.au/ and lend their support too.
Support me on my ride. Send me a message of encouragement, give me a call (0412840738), follow my blog or follow me on Facebook but most importantly please spread the word to all your friends and family so they can help too.
Leave a message for me:
If you want you can even spread the word and post it on facebook.