2015 Day two – Victor Harbour to Meningie
The day started out at a very early time again as we were off to pay our resepects on Anzac day. The dawn service at Victor Harbour was packed with people who were very respectful and the service that we witnessed was very moving.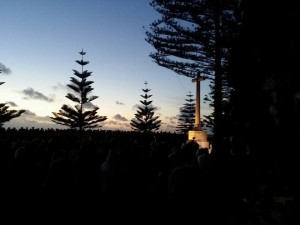 The ride today was always going to be a tough one. After yesterdays hammering the body was still feeling very tender. The legs took a while to warm up this morning but my saviour was the fact that we had 3 mechanicals in the first 20km so it gave me plenty of time to warm up for the day. Once the legs warmed up they were strong so I spent a little time on the front in the morning.
The run through to morning tea and to lunch were both pretty good. We even had a slight tailwind to take us along. After we had lunch we crossed the Murray river on a ferry which was an interesting experience.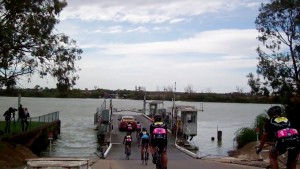 Thats when the day turned ugly !!
When we got off the barge there was a right hand turn which turned us into a 30km/h headwind.
Because we had a few guest riders and a few that were tired from yesterday we were suffering. We spent 40km pushing into the headwinds and it was brutal. We averaged about 20km an hour for the last stretch so it took a good couple of hours before we reached Meningie.
The good thing though is that is where our fortunes changed. Justin and I lucked out again being billeted by the same people that we had two years ago!
It has been wonderful hospitality from the Meningie town and we had some great fun at the evening dinner.
Hopefully the wind will die down a bit tomorrow as my legs and the legs of the whole peloton are getting a bit tired !!
Leave a message for me:
If you want you can even spread the word and post it on facebook.