Tour de Cure 2017 – Day 1 Mt Hotham to Lakes Entrance – 187 km
Its always exciting to get to Day 1 of Tour de Cure. This year is no different.
My training is done, I am feeling fit and ready to go
My fundraising is done, I have passed my target and pushing onto the $15,000 goal that I set for myself. NOW …………………………. we are here and ready to ride.
It's a feeling of excitement and trepidation. Knowing that I have done the work on the bike to get ready but still after 8 years feeling a little bit of trepidation. Not that I can't do it, I have proven in the past that I can, but I want to do it well and be a ride leader.
The alarm went off at 5.30 am. The day was a bit chilly, after all, we were on the top of a mountain. It snowed here a couple of weeks ago and even though there was no snow there now, the pre-dawn chill was still evident with the wind blowing a mist over the top of the hill.
It didn't take long to get ready, I had layed all my gear out the day before and in a short time, I was out the door and off to the start for another Tour de Cure.
Berrett's was already at the top of the hill so I got my face on the Sunrise cross early so that the pressure was off for the rest of the morning.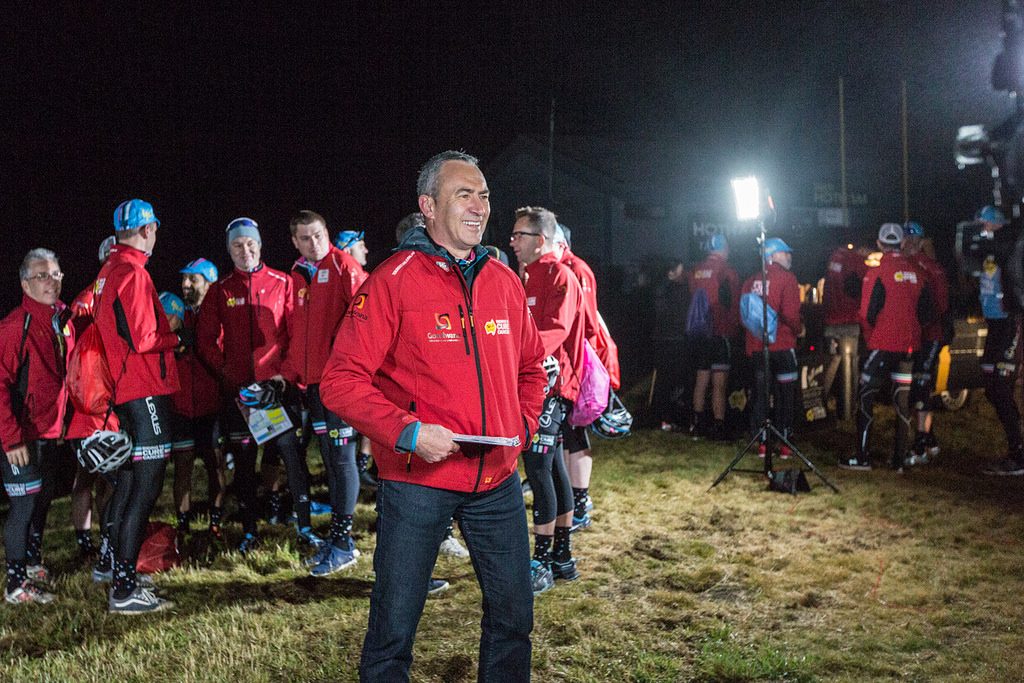 I was in the last peloton today so there was a lot of hanging around waiting for the Sunrise Cross's to be finished. Today that was great, not only did we leave after the sun got up we got to see a spectacular sunrise.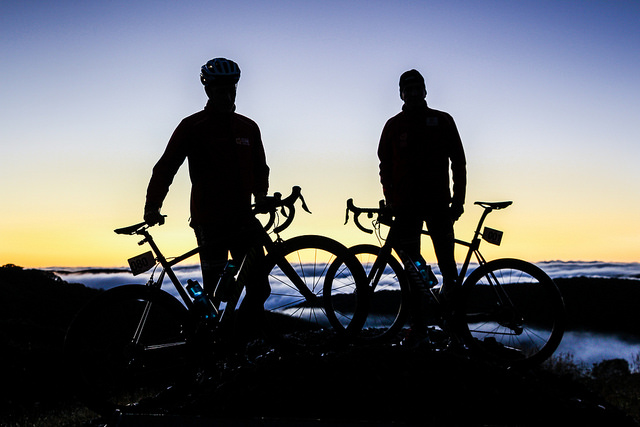 Soon enough we were on our way. The roads were still a bit wet but it was sunny so that cleared up soon enough.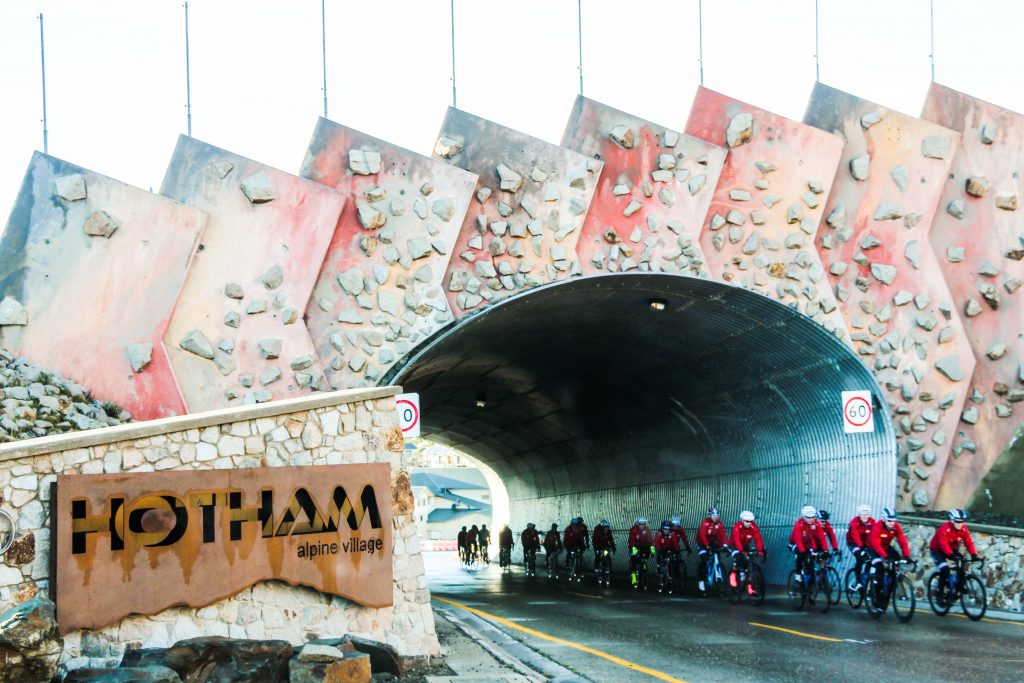 Before we set off, a mate of mine, Matt Fulton and I had leg one of our annual downhill challenge. Unfortunately, on this occasion, Matt had packed a few doughnuts in over the offseason and it looks like he pipped me at the post.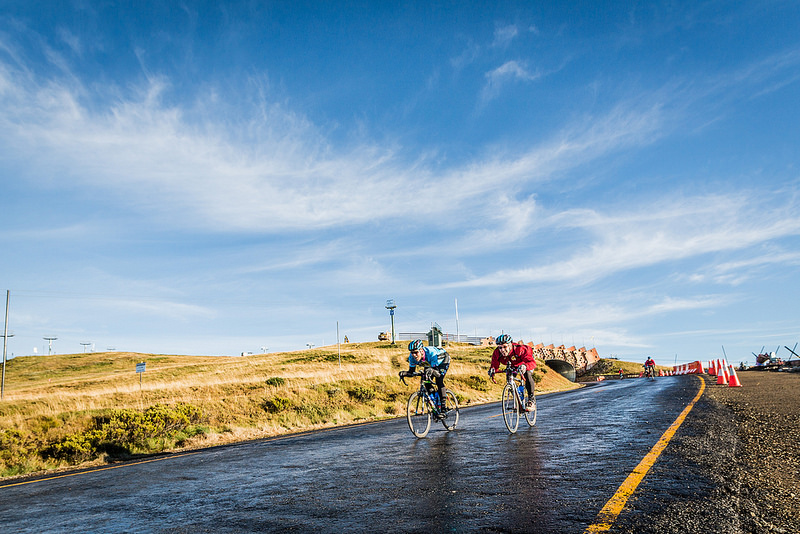 It was great to descend down through the clouds. The gums looked awesome with the mist coming through them.
Today looked like an easy day on paper, it was 187 km but from the top of Mt Hotham to Lakes Entrance was mostly down (3200meters in fact) but …………. what we didn't know was there were still quite a few hills in there. The fact that there was still 1750meters up meant that 187km was actually hard work.
The roll into Lakes Entrance was a good one and we were all relieved to get there after a long day in the saddle.
Each night we donate $10,000 to a local charity to help them with a local Cancer project to support the local community.
Tonight we donated $10,000 to the Central Gippsland Health services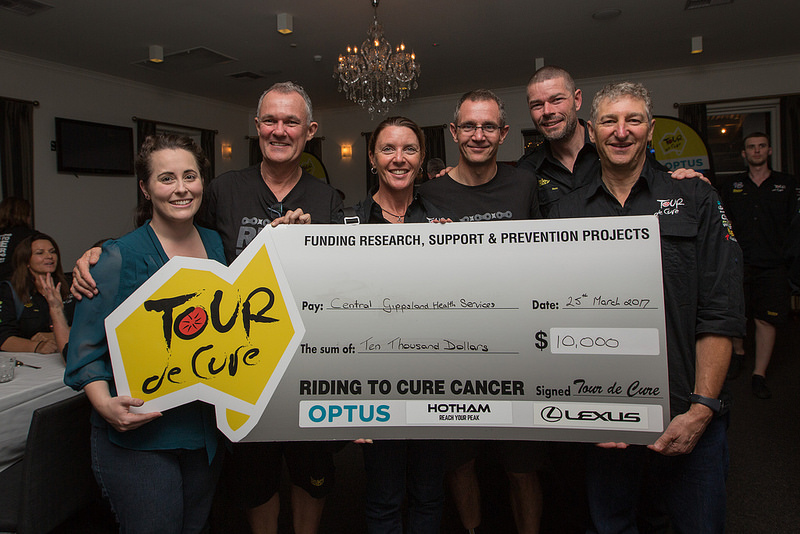 Leave a message for me:
If you want you can even spread the word and post it on facebook.