TDC 2017 – The Day before Tour – Ready for Tour 8
This year's Tour de Cure has come around really quickly. The training, the fundraising and getting the family in order for this year's Tour seems to have come and gone without too much incident although standing at Mt Hotham and reflecting on the preparation I now realise what a long process it is.
I started training in September to get ready for the Peter Mac Tour and carried it through until now so its been a long haul of training. This year alone I have completed nearly 3500km on the bike so I am feeling ready to go. The fundraising is over my target so I am really happy to say " Bring on Tour "
The last couple of days has been all about travelling to Tour.
Wednesday I flew down to Melbourne and stayed with my brother who dropped my off at the airport ready for the bus journey up to Mt Hotham for the start.
As usual, when we got there the wonderful support team was ready and waiting with all the kit, accommodation and other gear that we needed on Tour. It was great to meet all the old faces and lots of new faces as well.
Dinner was great, I got to really catch up with old friends. Being my 8th Tour I have formed friendships with a lot of people that are regulars on Tour. Its awesome to be welcomed back to the fold and have a drink with people that have similar goals to me – To Cure Cancer
To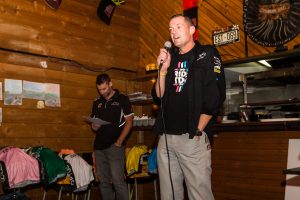 night Daren Armstrong spoke to us about his personal journey. About how he had an operation that took part of his lung out just 3 and a half weeks ago. How he still had some cancer in his bowl and how much he was looking forward to riding. What an amazing story of guts and determination. To go through all that and still want to ride on with Tour.
Tonight we gave a cheque to Camp Quality for $10,000 to support their project of giving families with a child who has cancer a trip away as the respite from this disease. The cheque will support an upcoming camp for these families.
The night ended at about 9pm and then it was time to go back to our room to get organised for the next day. Tomorrow we would be riding.
When we got back to our rooms there was a little surprise on our pillow. Lisa the wife of a previous TDC rider that had passed away late last year from Melanoma had written us all a letter. What a way to get us into the mood of Tour. If this didnt focus us to find a cure nothing would.
Here is the letter
Tomorrow we will be riding. Lets go !!
Leave a message for me:
If you want you can even spread the word and post it on facebook.