2013 Day 1 – Adelaide to Victor Harbour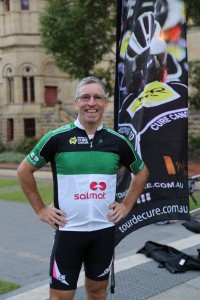 The day is finally here, Tour de Cure 2013 was about to happen!
I had trained for this event for the last 6 months, I have fund-raised for at least that time as well, trying to reach my target of $12,000 to help with our goal of finding a cure for cancer.
The alarm went off at 4.40am, I had only 5 hours sleep last night. It was 11pm before we got to bed with all the briefings and catching up with old friends some of whom I have not seen since last years Tour.
It was our teams duty to get up early to support the Sunrise cross's this morning so we had to be dressed and down stairs by 5.15am.
It was still dark outside and a little chilly so I had arm warmers on and an under shirt as well as a gillet over the top of my green jersey.
I was wearing the green jersey this morning, an honour that I was awarded last night.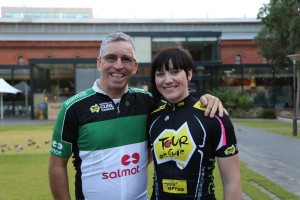 The green jersey was special for me because it was created after an idea that I had after the 2012 Queensland Country Tour where the first day was ridden in honor of Coner McAuliffe. Coner was the son of two of the riders, Sally and Michael McAuliffe who lost their son to cancer when he was just 3 years old.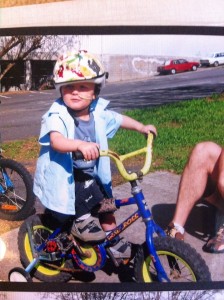 Here is a photo of Coner that Sally shared with me today on Facebook today.
The first day of the Queensland Tour was dedicated to Coner and we all wore green ribbons on our wrist, Coners favorite color.
So today I rode for Coner.
The ride started out pretty sedately, weaving in and out of the Adelaide suburbs. Our route was designed to take advantage of the beautiful coast line of Adelaide which we hugged for most of the morning.
The pace was pretty cruisy so it was nice to just do some sight seeing for the morning and not worry too much about a hard ride.
Once we got back onto the main route we started to travel along pretty well doing around 30 – 35 Km/h for the next hour till we got to McLaren Vale which we rolled through to get to Willunga Hill, a place that is well known to cyclists because it is included in the course for the annual Tour Down Under.
We were soon on our way up the hill, running at our own pace. I crested the hill in about 15  minutes while the better riders had times around 12 minutes for the 4 km climb.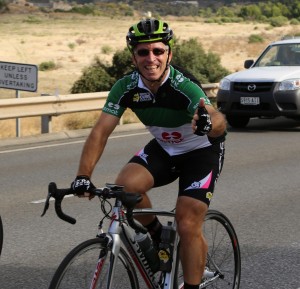 After that the team was a bit frisky and the rest of the day was spent heading mostly downhill to Victor Harbor with speeds up to 50km/h !
The roll into Victor Harbor was beautiful, coming over the hill and seeing the town in the distance framed by the Harbor that it is famous for.
Tonight we gave $5000 to Camp Quality to help them put on a camp for kids with Cancer.
Today we rode
98.6km

Distance

1,030m

Elevation

3:38:41

Moving Time

2,512

Calories
Tomorrow we ride to Meningie, 141km
Leave a message for me:
If you want you can even spread the word and post it on facebook.