2013 Tour de Cure – Day 4 – Border Town to Horsham
As I awoke today I could feel the unpleasant feeling that today might be a bit harder than the last couple. We had 170km to go and my legs were a bit still and my butt was a little tender from yesterday.
First thing in the morning I usually start to stretch as I am getting out of bed so that by the time I am dressed I am a bit limbered up at least. This morning I also applied a liberal dose of BUTT cream to try to stop the sore bottom from getting any worse!
We were soon on our way after a great presentation to the kids at the Border town primary  school who lapped up the Be fit, Be healthy, Be happy message that we deliver at our school visits.
When we left we found some great roads and to our surprise we seemed to be traveling along at a decent speed without much effort. I had a stint on the front and we even did some pace lining as a bit of a diversion from the very dry scenery.
We arrived at the next school which was at Francis, a very small primary school in the middle of a small town to find 26 kids. We often find that small schools like this really appreciate a visit from Tour de Cure as they dont get many people passing by and this school was no different.
Not only were they very enthusiastic they had also prepared a song for the riders that blew us all away. This was a great school and we really enjoyed it.
Lunch was at Garoke and we were soon on our way to Natimuk where it was great to see Dad and Rose pop out their heads and say hi.
We didnt have time to chat as we were off again and at speed !
We had to make a sponsor visit in town and were running out of time. This meant that we spent the next 25km doing around 40km/h.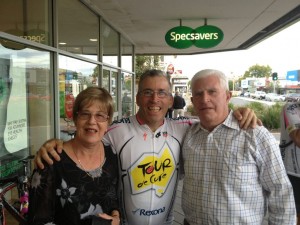 Whilst we can do that easily for short distances its really not a pleasant experience. I somehow got on the front at the start and I was soon begging to get of to have a rest in the peloton!
At the Optus shop that we were going to I was greeted by Dad and Rose. It was great to see them and fill them in on the last 4 days.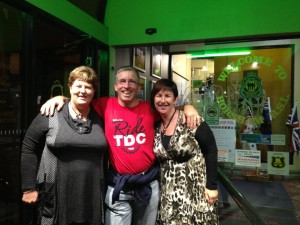 I also got a huge surprise when some old school friends that I hadnt seen for ages turned up and surprised me at the dinner. Thanks Sue and Julie for the surprise, it was great to catch up !!
Tonight we donated $5000 to the Lukemia foundation which will be used to provide services to the local Horsham people. Here is a video from Angela to say Thank you!
Todays ride
170.5km

Distance

386m

Elevation

4:58:14

Moving Time

4,230

Calories
Here is the Strava Link
https://app.strava.com/activities/51343407
Leave a message for me:
If you want you can even spread the word and post it on facebook.