2013 Tour de Cure – Day 7 – Benalla to Albury
Day 7 already, it seems like we had just left Adelaide and now we are on the homeward stretch with only a couple of climbing days to go before we arrive in Canberra.
This morning was cold, damn cold. I think the temperature before the sun came up was about 4 degrees!
I spoke to a couple of locals at the channel 7 cross and they all said that this was the coldest day of the year. Not good news when the next couple of days are up and more up!
As we were getting ready to go I decided that I would give the lads a little bit of luxury this morning so as they were putting thier socks on I put the hair dryer inside the sock and blew some warm air into them ! Small things help to get us going and that was one of them this morning 🙂
With all the crosses out of the way we went onto the first school for the day – St Josephs. We had a wonderful time speaking to them and Reid whipped them into a frenzy with a great presentation.
Today was only 130km but it was one of those days that was a sleeper. It was coming off  tough few days on the bike with the longest stage and a 180 km and 170km so it was always going to be tough for me.
One of the highlights of the day was when we visited another school with Mark Beretta.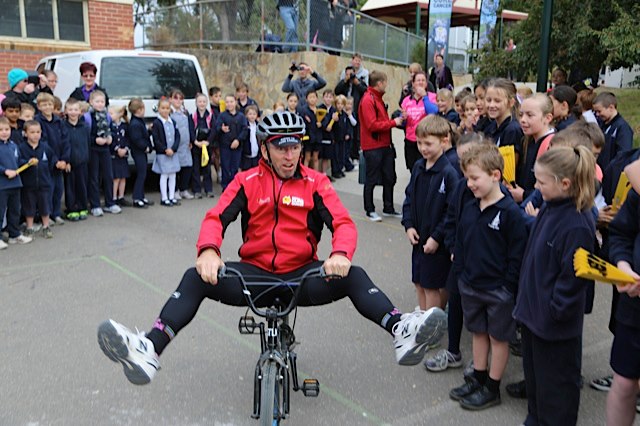 The team had already been there and had whipped the kids into a virtual frenzy !
We arrived with screams and cheers and was greeted with a avenue of honour that we rolled down, high fiving as we went.
As the ruckus subsided we all wondered over and interacted with the kids and signed lots of autographs.
The afternoon session was a bit hard for me. This afternoon I developed a problem with my Achilles at the back of my left foot. This made riding into Albury a little painful. I think I will have an early night and take some anti inflammatories and head off to bed.
I was unlucky enough to be awarded the MUPPET award today, I got caught doing a silly thing which got me the award (I wont go into that.!!)
Tomorrow we traverse the Hume Dam so it should be a fun day on the bike although I am not looking forward to the 1600m of climbing for the day.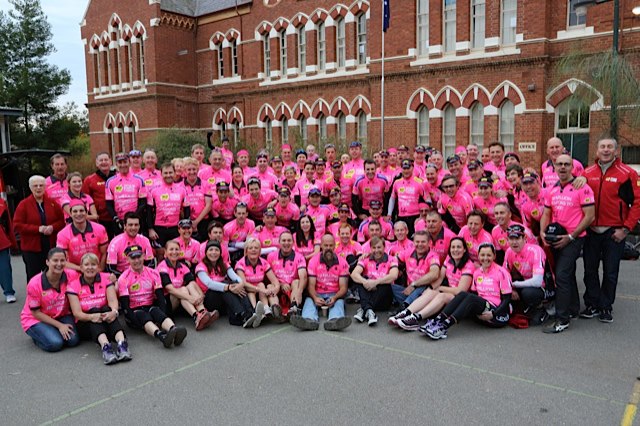 Distance 138.5km
Elevation 389m
04:50:40
Moving Time 04:50:40
Calories 2,810
Time 04:50:40
Elapsed Time 07:58:21
Avg Temp 16°C
Max Speed 48.2km/h
Avg Speed 28.6km/h
Cadence 74
Leave a message for me:
If you want you can even spread the word and post it on facebook.