2013 Tour de Cure – Day 9 – Khancoban to Jindabyne
It was very cold again this morning and because we had to get Mark Beretta down the road about 30km to get him to the first cross we left pretty early. The rollout time was set to 6.00am!
We had breakfast in front of the fire at the local Jindabyne hotel and it was a hard job to pry us from the open fire to the cold outdoors to start the ride.
This was going to be a tough day and the organisers had a little surprise in store for us. This was the message on my bike this morning to get it us up the hill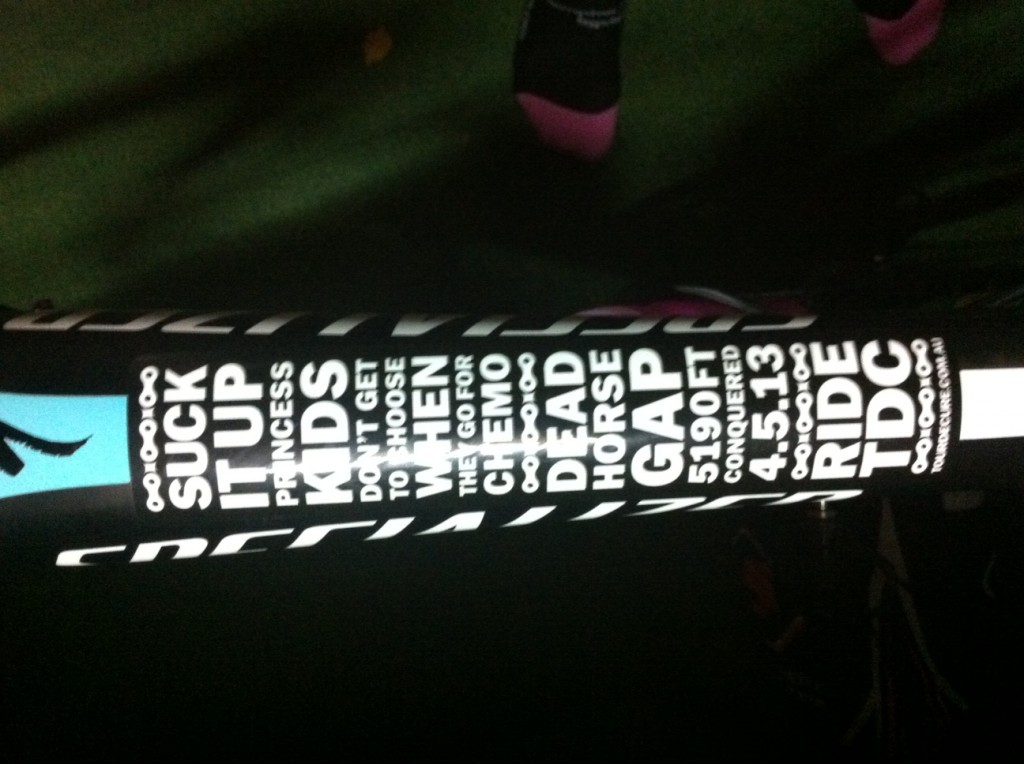 We rode about 2km from the breakfast and we were into the first climb. This climb was quite long but not very steep so we set our own pace and everybody got there in reasonable time.
My achilles has been very sore the last couple of days and I am not alone. Because we do some schools and corporate visits we stand around a bit in our riding shoes. This means that there are a lot of people with sore feet and achilles problems.
Here is a picture of me getting strapped up this morning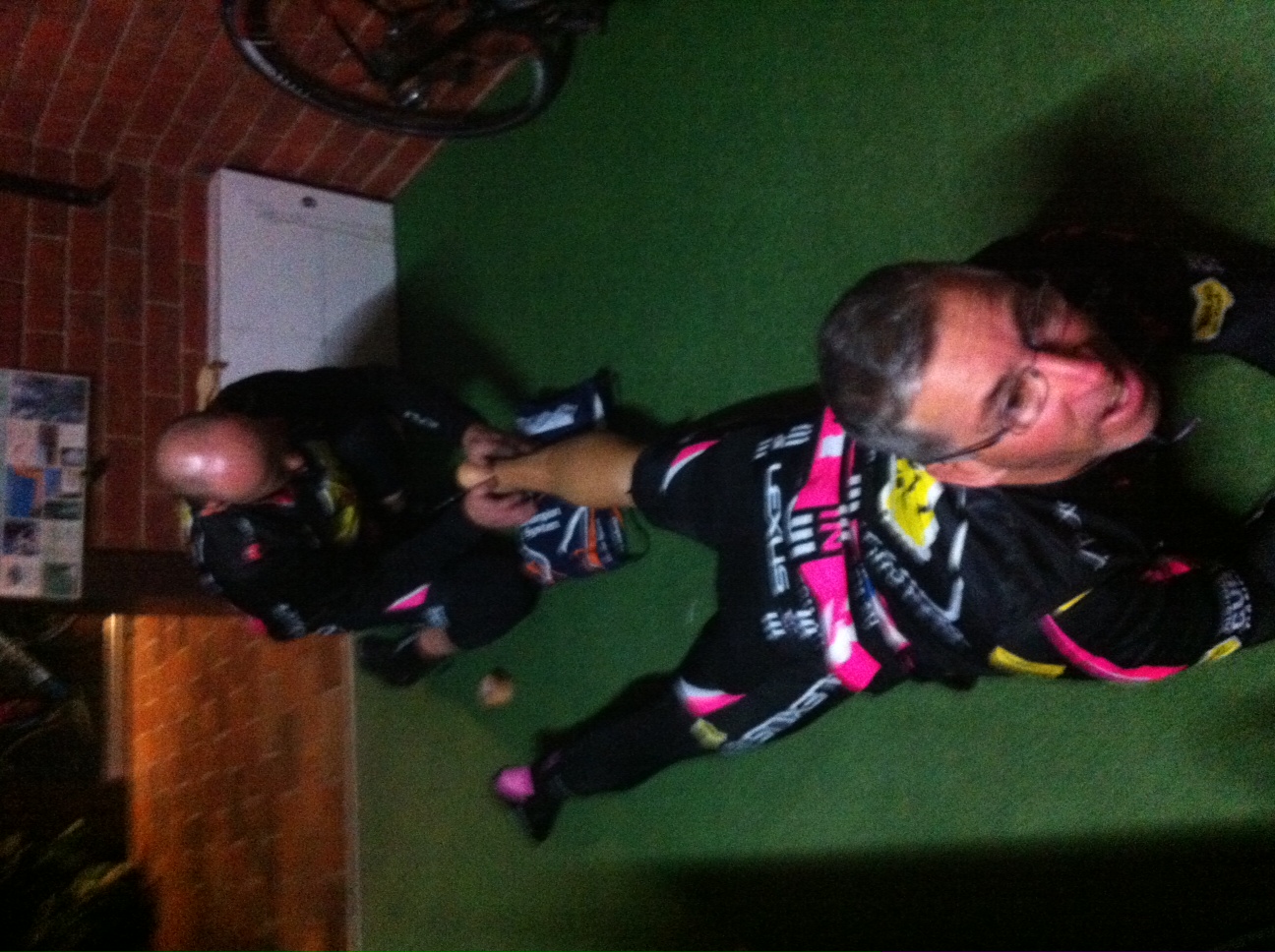 When we got to the top one of the riders (Luke) was already feeling the effects of the cold and fatigue and was shivering and shaking. We had to get all his clothes off and get him into the car and warm quickly otherwise it was going to turn nasty so the support crew leapt into action and soon got him sorted out. His riding day was over at that time though as it was too dangerous for him to continue.
With the first climb over and the Sunrise cross done everybodies thoughts turned to the next climb. Dead Horse Gap.
This climb was 15 or so kilometers long and was a constant 6 or 7 degrees but at stages went up to 10 – 15 degrees so it was quite steep.
I got a bit of a rhythm going and although it took quite a while to climb I got up there with a little zig zagging across the road at stages where it was quite steep! The Zig Zagging lets you attack the hill at a steeper angle so it doesnt hurt as much !!
Soon we were up the top of Dead Horse gap and everybody was so pleased to get there.
Kathryn and the kids met me at the top and surprised me as I thought that they were meeting me in Canberra!
Here is a picture of me at the top of Dead Horse Gap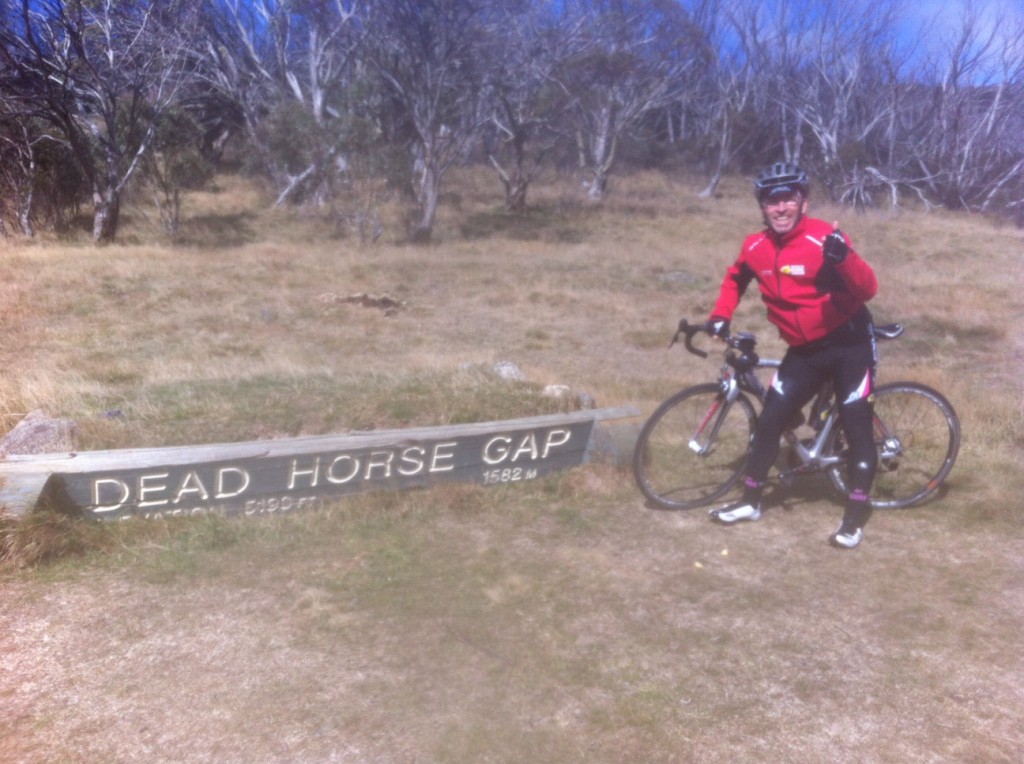 We had to keep going pretty quickly as the wind at the top was so cold it almost freezing!
Lunch in Thredbo was wonderful but we all wanted to get down the road and finish this epic day.
The run from Thredbo to Jindabyne was wonderful, mostly downhill so again we were descending like demons !
It would be great to come back here and tackle that decent again as I think you could really pick up some speed 🙂
Tomorrow we roll into Canberra and another Tour de Cure is done. This Tour has been fantastic with some challenging riding and a great sense of comradery with the other cyclists.
I am looking forward to it but it would be great if we could start with the sun up higher as its going to be really cold tomorrow.
Todays Stats
Distance 110.0km
Elevation 2,902m
Moving Time 05:32:28
Calories 3,747
Time 05:32:28
Avg Temp 8°C
Max Speed 77.8km/h
Avg Speed 19.8km/h
Cadence 69
Leave a message for me:
If you want you can even spread the word and post it on facebook.