Day 3 – Canberra to Adaminaby
174.4km Distance
6:52:36 Moving Time
2,035m Elevation (?)
Extreme Suffer Score
3,816kJ Energy Output
Avg                  Max
Speed            25.4km/h          62.6km/h
Heartrate       130bpm            172bpm
Cadence       78                      222
Calories 4,255
AveTemperature 13℃
Elapsed Time 9:59:26
It was a 5.30 am start this morning, so it was still dark when we walked out of the motel, but we could feel the wet air. As I looked around I could see that the
fog was very thick and after riding in it for just a few mintutes I was already feeling like I couldnt see a thing. I needed to keep wiping the
dew off my glasses to see anything.
This morning we went to a Woolworths store for the morning cross with Channel 7. This year James Tobin is on Tour with us so he is doing the weekend
cross's and Mark Berretta is doing the weekday ones.
At one of the cross's this morning Martyn Ellis a friend from Brisbane got his head shaved for donations. I didnt see this being done as I was on the road
so I am looking forward to seeing the photos of that one.
Canberra sits in a bit of a bowl with hills each side. Thats good and bad. The good bit was going down the hill to get into Canberra but the bad bit was
going back up to get our of the place!
If you are a rider thats not much fun as we have put in a couple of big days already and backing up for the 3rd day meant that our legs were a bit second
hand. Your legs really protest at hitting a hill first up !!
The morning went pretty quickly although riding in the fog was a bit of a novelty the temperature was a little chilly for my liking.
My legs have been feeling pretty strong over the last couple of days so as Berretts rolled off the front (the camera had gone) I took up the challenge of being
in the engine room.
At the start of my training this year I didnt think that I could make the Tour and certainly didnt think that I would be sitting in the engine room for
most of the morning. The hip flexor injury that I did in Novemeber is really holding up well. The training that I have done is starting to pay off. I just hop
that I can hold this form for a little longer into the Tour.
The run to lunch was quite slow with punchers on punchers which slows us down a lot. We have a mechanic to change the tyre but that normally takes a couple
of minutes and by that time the peloton is down the road a bit so it takes a while to catch up. To make it easier we roll along at 20km an hour to let them c
catch up.
The rain came back before we reached Cooma and with it the temperature dropped. We reached Cooma after 120kms, wet, cold and knowing Tour was getting serious. Food at Cooma was fantastic. I needed something to
get me going again.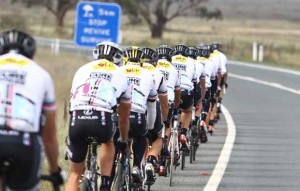 The afternoon went a lot quicker but there were quite a few hills including one that was 9 km long. It wasnt very steep but it was a grind to get up.
In the afternoon session I was feeling quite good so I helped another rider Chris to get home by letting him draft behind me. A few of the guys
had Gastro over the last 2 days and he had stomach cramps yesterday. Today he was in the hurt locker but we got him home.
Tonight we had a great night at the local pub and presented a $5000 cheque to the Coomera Hospital for an oxegenator machine that they told us that would
be most valuable for them.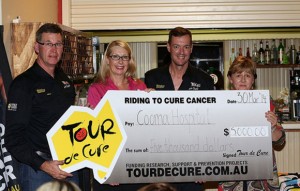 Tomorrow the real climbing starts and that will sort us out big time….
Leave a message for me:
If you want you can even spread the word and post it on facebook.